August is the month of a monumental day for Singapore. One of fireworks, singing, and parades!
Our team at The Spot has put their heads together to arrange a unique menu with eclectic specials in tribute of National Day 2019! As you may know, the theme for NDP (National Day Parade) this year is <Our Singapore>.
To celebrate National Day at The Spot, we will be expressing our deep-seated fondness for Singapore through Chef Boon Seng's creative interpretation of familiar Singaporean dishes.
From 1 to 8 August 2019, feast your eyes on local favourites executed with fine contemporary European flair at The Spot, and playful cocktails to tease your palate. Reimagine chee cheong fun, yu sheng, tau huay, and have your phones (and palate) ready for these insta-worthy dishes!
OPEN FACED "CHEE CHEONG FUN"
Boston Lobster with Char Siu and Wild Mushroom, Soy Cured Egg Yolk, Bone Marrow Soy Vinaigrette
SINGAPORE STYLE CEVICHE
Wild Caught Yellowbelly Flounder, Soy Sauce Jelly, Sesame Oil, Calamansi Vinegar
GINGER "TAU HUAY"
Desiccated Coconut Crumble, Coconut Sago, Caramel Ginger Sauce, Gula Melaka Ice Cream
Keen on trying these dishes at The Spot? Take a look at the full menu below: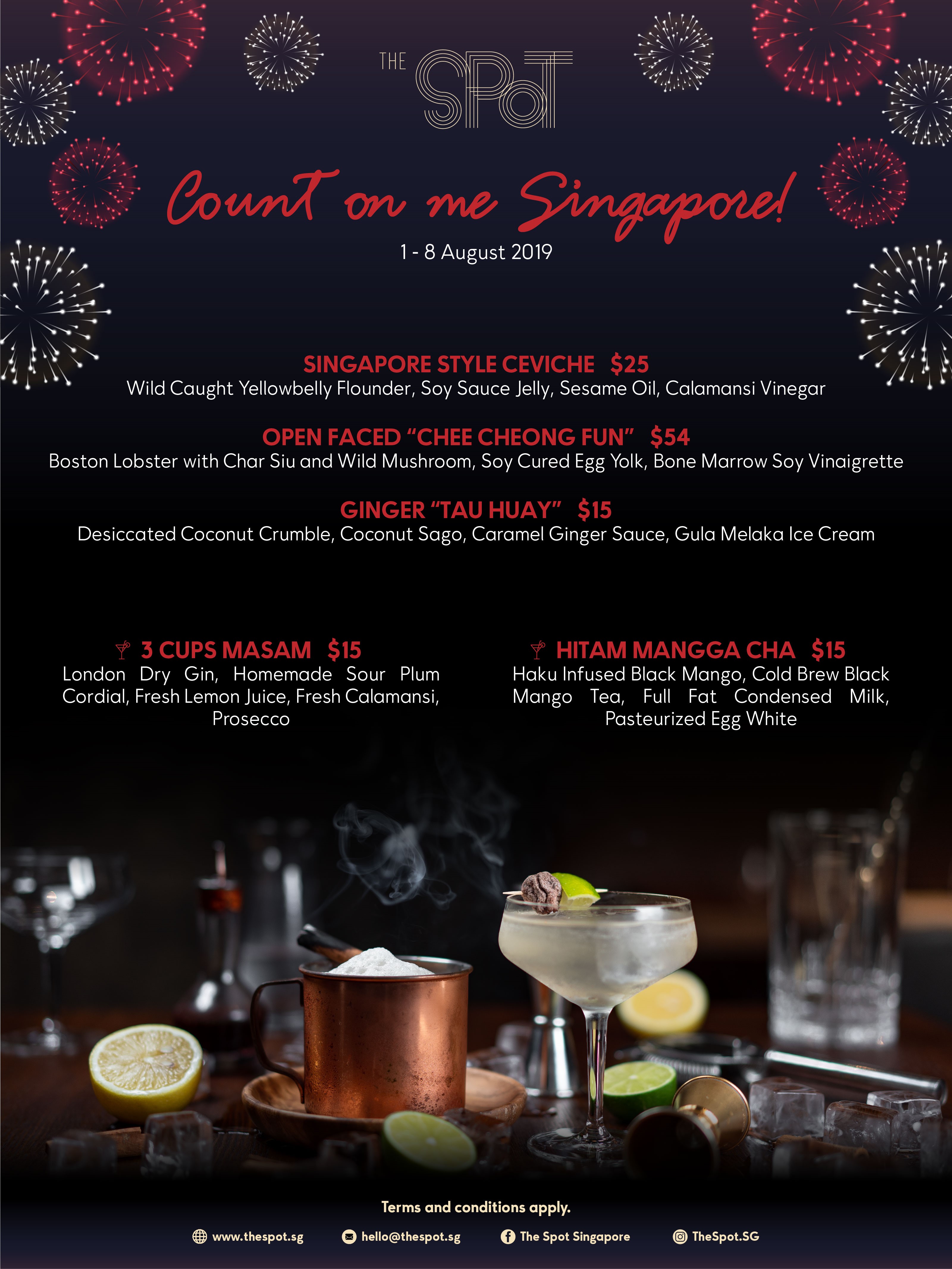 Reach out to us at The Spot to make your reservations!
Connect via Whatsapp: https://wa.me/6598359972
Email us at hello@thespot.sg
Call +65 6284 2637o